ETH-based NFT game Illuvium has raised over US$72 million following the sale of close to 20,000 digital land plots:
Importantly, the land NFTs operate on Immutable X, a layer-2 scaling solution for ETH that enables cheaper and faster transactions. This intentional design was no doubt aimed to prevent exorbitant gas fees which have plagued other projects, most recently Yuga Labs' 'Otherside', where US$157 million in ETH was burned.
The Land Sale Explained
According to Illuvium, the digital land parcels will confer various benefits in the upcoming PC and Mac game due for release later this year. In total, over a period of four days, close to 20,000 plots were sold to both speculators and gaming enthusiasts. Ultimately, the game will feature 100,000 land plots in total.
Among the initially offered 20,000 plots, 29 were retained by the developers for future giveaways, while two additional Tier 5 plots (the most valuable in the game) will be auctioned off later using a standard auction format. By contrast, the 19,969 plots were sold using a Dutch auction format whereby the price of plots were reduced until a buyer was found.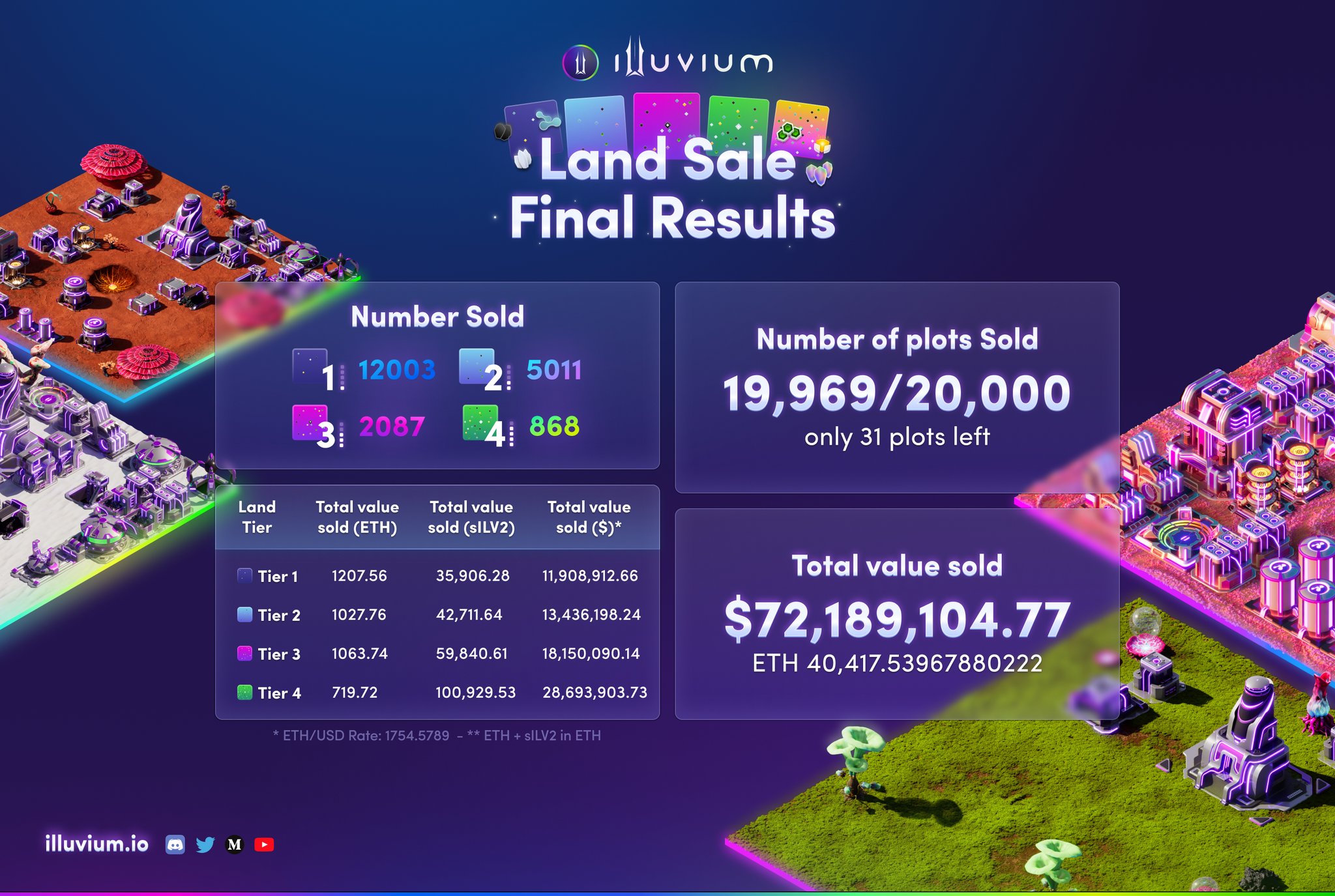 Prices kicked off at 2 ETH (US$3,700) for Tier 1 plots, 6 ETH (US$11,100) for Tier 2, 20 ETH (US$37,000) for Tier 3, and 80 ETH (US$148,000) for Tier 4. While some plots attracted lofty valuations, they remain well shy of the highest price achieved to date, which was US$2.4 million for an Axie Infinity plot.
For more information on the land sale that concluded June 5, the video below offers a useful explanation:
Illuvium Gameplay
Players start off having landed on a foreign planet, Illuvium. They then encounter strange creatures known as Illuvials, which can be captured and used by the players in battle. Along the way, players earn rewards and experience points, allowing them to progress to more dangerous terrains of Illuvium. 
Throughout the game, players can purchase weapons and armour as NFTs that assist them in their quest and can also be resold within the in-game marketplace, which has not yet been launched.
According to the development team, the game is set for launch in Q3 of this year.
Crypto News
Gaming
Illuvium (ILV)
Ethereum (ETH)
Immutable X (IMX)
Disclaimer:
The content and views expressed in the articles are those of the original authors own and are not necessarily the views of Crypto News. We do actively check all our content for accuracy to help protect our readers. This article content and links to external third-parties is included for information and entertainment purposes. It is not financial advice. Please do your own research before participating.