A mother went viral after sharing her first-grader's homework assignment which mentioned how not eating can make someone "thin."
The mother, known as @thisisharlie, posted the TikTok on Tuesday where it received more than 807,000 views and 1,200 comments. The video can be viewed here.
Body Image in Children
Studies have shown that poor body image and disordered eating are on the rise for America's youth, with elementary school students becoming dissatisfied with their appearance.
Research shows that by age 8, some children already express a desire to be thin and diet. In one study of 776 students aged 11–12 years old, researchers found that three out of 10 students felt dissatisfied with their bodies.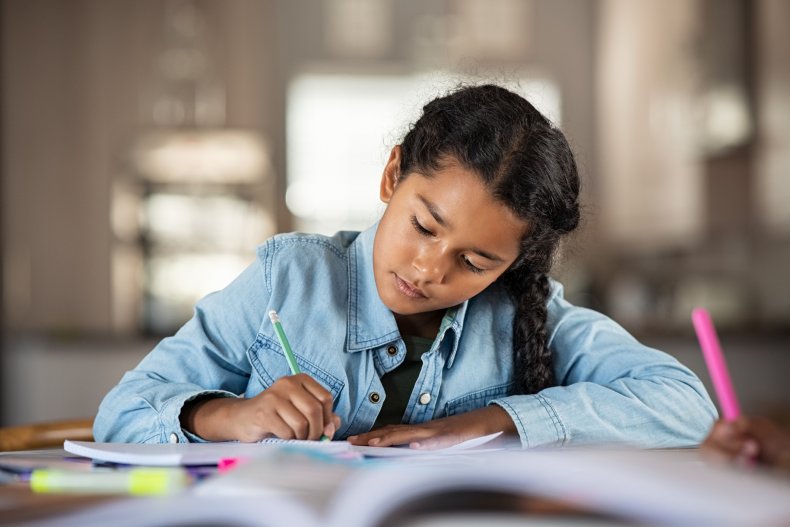 Less than half of the students with an average BMI reported feeling satisfied with their body image, with female students more likely feeling this way than their male counterparts.
Other researchers have found that children exposed to various types of media that depict diet culture or the value of thinness in society are more likely to be dissatisfied with their bodies.
This dissatisfaction can lead to dieting or disordered eating which have long-term health risks including malnutrition and insufficient vitamins.
The Assignment
In the viral TikTok, Harlie shows her 7-year-old daughter's homework assignment.
"Just a friendly reminder to always check your kid's homework," the caption read. "They may be learning more than you think."
Harlie showed the homework sheet which had the child fill in a blank within a sentence with one of their vocabulary words. In one example, the question read "Joe looks very ___ because he hasn't eaten much" to which the child wrote in "thin."
"It's 2022 can we please not," the on-screen text read as Harlie explained to her elementary schooler that the sentence was incorrect.
"Not eating much food isn't what makes you thin," she said as she pointed at the homework sheet. "That's not really a fair thing to say. I don't like that they put this on your homework."
She then explained to her child that she would keep the word there because that's "what the teacher wants" but that it is not true.
"So then what does make you thin?" the child asked.
"Eating healthy food, getting lots of exercise, and a lot of it is honestly just genetics, what you were born with," Harlie replied.
Her daughter replied by saying "I'm Italian" and adding that "Italians love good food."
Harlie replied that she should never stop eating as a way to become thin and that she is "perfect" the way she is.
Viewer Reactions
More than 1,200 users commented on Harlie's video, many praising her for clarifying with her young child what happens when you stop eating.
"You did such a good job catching this and teaching the truth," one user commented. "Sadly lots of moms don't even pay attention to their kids homework smh."
"Italians do like good food!!! What a great way to address this!" another user commented.
"As a teacher—yes this is not okay and I think you should kindly let the teacher know," another commented. "However, most teachers do not make their own homework."
"You're doing a great job! We use 'fuel foods' and 'fun foods' instead of healthy and unhealthy to develop healthy relationships with food," one user commented.
"I've struggled with an eating disorder for 11 years. This isn't okay," another user wrote. "Thank you for having this conversation with her."
Newsweek reached out to @thisisharlie for comment.
Other Viral Parents
In June, a mother was criticized online after revealing she taught her 12-year-old daughter how to count her calories. Many parents replied that calorie counting often leads to higher risks of disordered eating.
One man was praised on Reddit after he kicked his sister out of his house for bringing gluten into his gluten-free kitchen. Another was also praised for ordering food for his sister who doesn't eat anything other than Asian food.