The Drug Enforcement Administration is warning the public about a new, widespread threat targeting kids. In a statement released this week, the DEA reported the spread of "rainbow fentanyl"—fentanyl pills in bright rainbow colors that look like candy, to target young people. Fentanyl is a synthetic opioid that's 100 times more potent than morphine and 50 times stronger than heroin, and it's fueling a record number of overdose deaths. According to the CDC, over 150 people die each day from opioid-related overdoses, reaching a record of 100,000 last year.
There has also been record amounts of drugs coming in from the southern border. In 2020, Customs and Border Protection reported seizing over 533,705 worth of drugs.
Due to the fact that these drugs are flowing in from Mexico, the conservative Right has been quick to blame the influx of rainbow fentanyl on the Biden administration's border policy, which has led to record numbers of migrants crossing the border illegally. But this is almost certainly not the real cause of the fentanyl crisis.
Though more than half of Americans blame migrants for the increase in fentanyl deaths, the vast majority of fentanyl is smuggled through official ports of entry, hidden trucks and vehicles. Just a small amount is smuggled across the border between those ports, NPR has reported, and almost none of it by individual migrants. In other words, the fentanyl gets in hidden in legally crossing vehicles, so it has almost nothing to do with Biden's border policy. As the Brookings Institute pointed out, many of the drugs come hidden among massive container ships and by aircraft.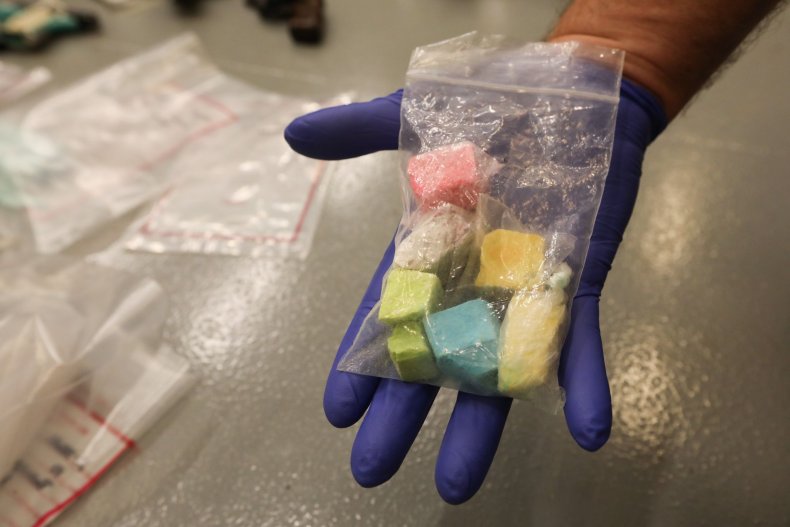 Moreover, we know that 75 percent of heroin and fentanyl users started with prescription opioids, which come from right here in the United States. As someone who was myself a drug addict, I know this firsthand. The person who got me addicted to drugs wasn't a migrant crossing the border but my own doctor.
As a recovering drug addict with 10 years of sobriety under my belt and years of experience working with other addicts, I know that we have to start asking what are the reasons our kids want to use drugs in the first place.
And we know what they are. The National Institute on Drug Abuse has outlined the five main risk factors for drug abuse: early aggressive behavior, lack of parental supervision, peer pressure, drug availability, and poverty. Other factors including neglect, physical or sexual abuse, and living in a home with high levels of parenting stress and economic stress can also contribute.
Meanwhile, the Harvard School of Public Health researched how the pandemic accelerated the youth mental health crisis, fueled by lockdowns and increased social media use.
These things are all related. As a recovering addict, I can tell you that drug use is a coping mechanism for poor mental health. Our children are struggling, and they don't have the resources to get help. We don't even have enough teachers, let alone mental health professionals in schools.
It might be easier to blame the Biden administration's border policies, but that won't really help our kids. What will help is understanding why they feel so desperate as to be turning to fentanyl in the first place. But sadly, neither side seems ready to do that. While the Right blames the border, the Left doesn't talk about this at all. Their complicity in the mental health crisis makes it all but certain that this will not become a major priority. Meanwhile, the funerals continue.
Of course, additional resources towards border protection would definitely help. But that's not going to do much to make Congress stand up to Big Pharma, or help kids buck peer pressure.
What we need is to address the childhood mental health crisis. Until we do, the cartels are going to continue to win, and we're going to continue going to funerals.
Chris Boutté is the host of The Rewired Soul podcast and author of HOPE and Caught in the Crossfire. Follow him on Instagram and Twitter @TheRewiredSoul.
The views in this article are the writer's own.